After my afternoon coffee at Gongbech, I walked for a bit along the rocky coast east of Gongbech until this eatery caught my eye.
But first, a short prelude and something to think about: what do you call this kind of restaurant? (In English, that is.) As a Filipino, I'm used to calling local eateries as carinderia, and I've always considered it as a classification distinct from a restaurant. It feels wrong or inaccurate to call them restaurants. They have a narrow-alley izakaya vibe, but they're not necessarily a pub. They're usually found in small alleys, hidden away from main commercial food strips. Their space is small, they don't have furnished concrete walls, and their seating is usually crammed. They're unsophisticated. And yet—they feel really homey and raw. Is there a better word to identify them than just a restaurant—or a small restaurant?
This Korean carinderia sat right on the side of the beach, enclosed in put-together sliding doors, glass panels, and tarpaulin, with a gravel floor. The wooden tables are long and communal, catering to families and big groups. And if you're a solo or small-group diner, you should be ready to sit close to other diners. Though luckily for me, I didn't have to because I went on a lean time.
Dongbok-ri Haenyeo-chon is a haenyeo restaurant, one of the many you will find encircling the coast of Jeju. They're part of what keeps a precious culture unique to this island alive and burning.
"Haenyeo" refers to professional female divers in full-body (head to toe) diving suits who swim like mermaids and harvest fish and seafood from the ocean. They are also known as the mothers of the sea. It's very rare to see women reigning in this domain, but here they run the world! Girls! Most of them are senior adults who can still hold their breath for up to two minutes. I can't even keep water from my nose in the shower! They are so precious, and I love these eomeoni and halmeoni. They truly deserve to be a UNESCO Intangible Cultural Heritage.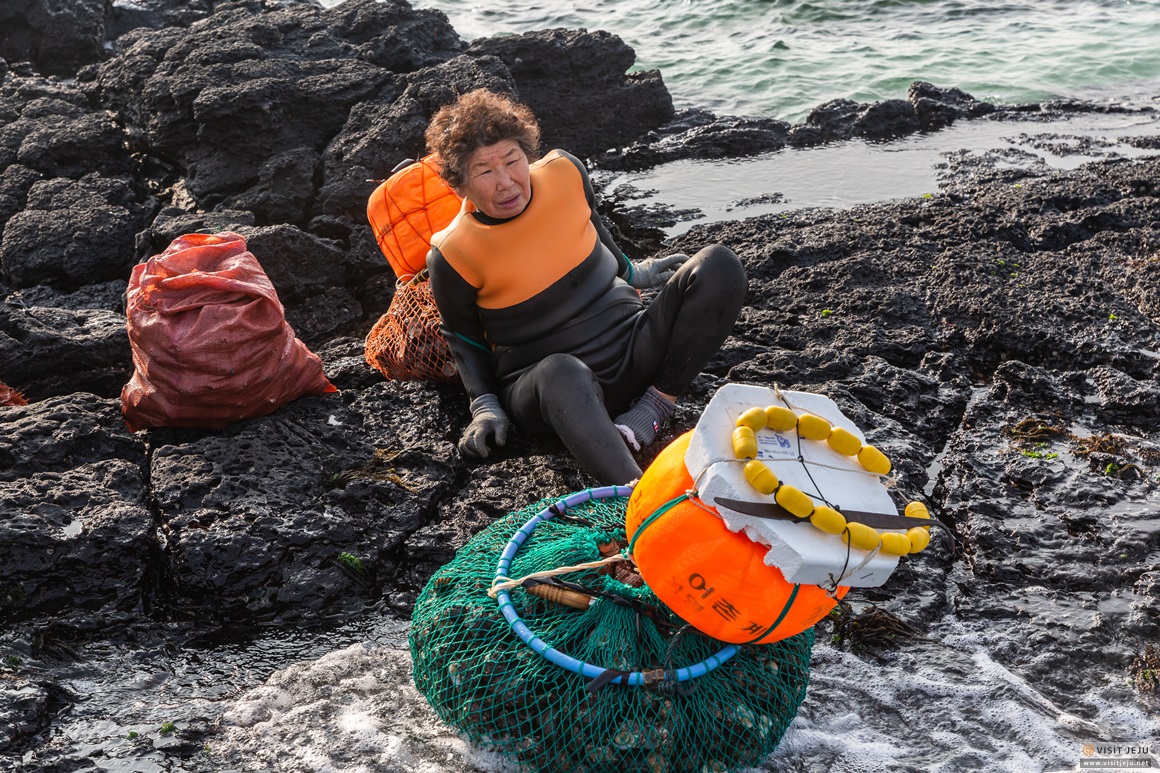 As I've said, there are many haenyeo restaurants around Jeju, although I can't say for certain if all of them offer seafood caught by the female divers (or the name is just a homage). But if the eatery is located in a fishing village, then they most likely are genuinely haenyeo. In this case, Dongbok-ri Haenyeo-chon is run by the haenyeo union of Dongbok.
The restaurant is famous for sashimi—no surprise, because freshly caught seafood is really best enjoyed raw. And its specialty is sashimi noodles. At the time of my visit, there were also many orders of octopus sashimi. But they're quite expensive for a solo diner like me, so I went for the sashimi rice bowl. Sorry, not noodles because I was specifically craving rice!
As expected, the people in the eatery can't talk in English, so I made do with what little Korean phrases I knew. And the ajussi there—he came off as grumpy at first, but he patiently assigned me a table. And when he served my food, he also did his best to tell me how to eat the dish even though I didn't ask.
The sashimi rice is like bibimbap, only the topping is not meat but seafood. The seafood that you get in your bowl will depend on the season. The way you eat it is pretty much the same. You put gochujang and mix everything. Even though I'm not really a seafood fan, I enjoyed it! It tasted fresh and delicious, even the vegetables.
There is actually an outdoor area as well, but I found it after I was finished eating. It's on the other side of the restaurant, opposite of where I came from. It would have been nice to watch the sunset here. But I couldn't stay long because it was my last night of stay in Aewol Sea Palace Pension before moving on to Seogwipo, and I had to make it for one last dinner with abeoji.
Dongbok-ri Haenyeo-chon is only a seven-minute walk from BTS Suga's brother's Gongbech. You can't find it listed on Google Maps, but I've pinned it below. You can also use Naver Map and search for Dongbok Haenyeo Seafood.
Address: 33, Dongbok-ro, Gujwa-eup, Jeju-si, Jeju-do
Nearest bus stop: Dongbongni Tourism Experience Fishery